MailBakery – HTML Email Template Coding Services
Tested on all modern mobile devices
20 Tips and Email Examples for Re-engagement Email Campaigns
Re-engagementemail campaigns target clients whoregistered with you, used your services and bought your products, but whove been pretty quiet for a while. Re-engaging clients with your brand is something you couldeasily do with email.
To spark your motivation and to make the process of win-back email creation easier, we paired ourgreatest tips on win-back campaignstogether with some beautiful, real life reactivation email template examples. Good luck!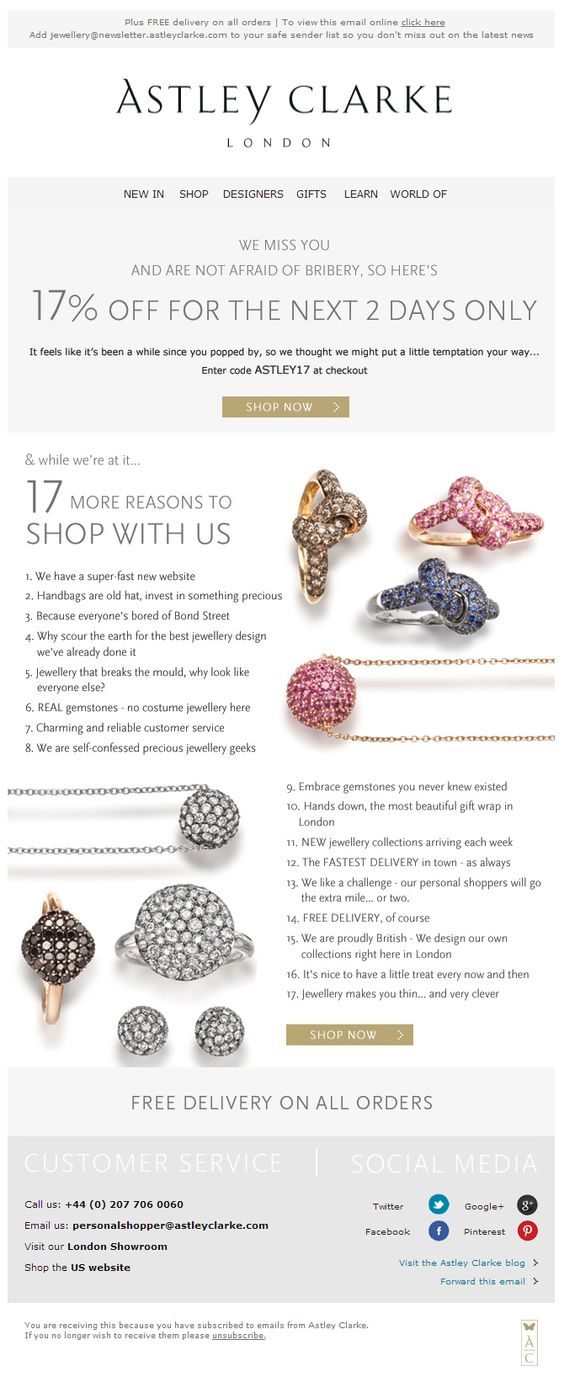 Astley Clarke, the leading British fashion fine jewellery brand, sent thiswin-back emailto its clients with the promise of 17% discount for their next purchase. This is a great incentive for those looking for an elegant necklace or a pair of earrings.
Dont wait too long to reactivate your clients. You have to remind your clients about your brand and your productsbefore they totally forgetabout you or unsubscribe from your email list.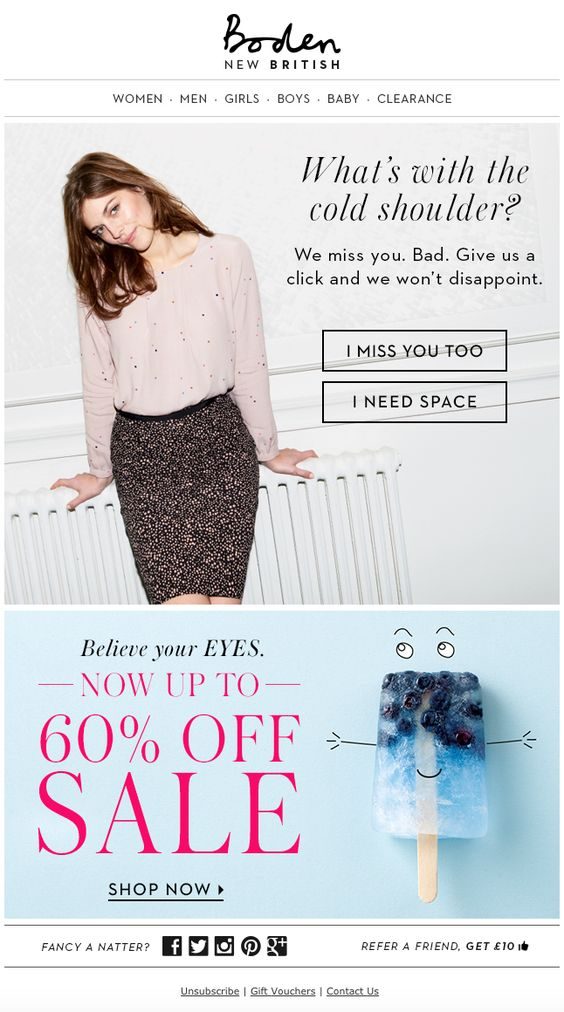 Here is a romantic one from Boden. They refer to therelationshipthey have with their clients and want to knowDo you miss them?orDo you need space?With the email ending on a more pragmatic note, tipping you on an up to 60% sale.
Dont make wrong assumptions like thinking that the only thing your clients will respond to are price incentives. Test severaldifferent re-engagement messagesand see what is it that they respond best to.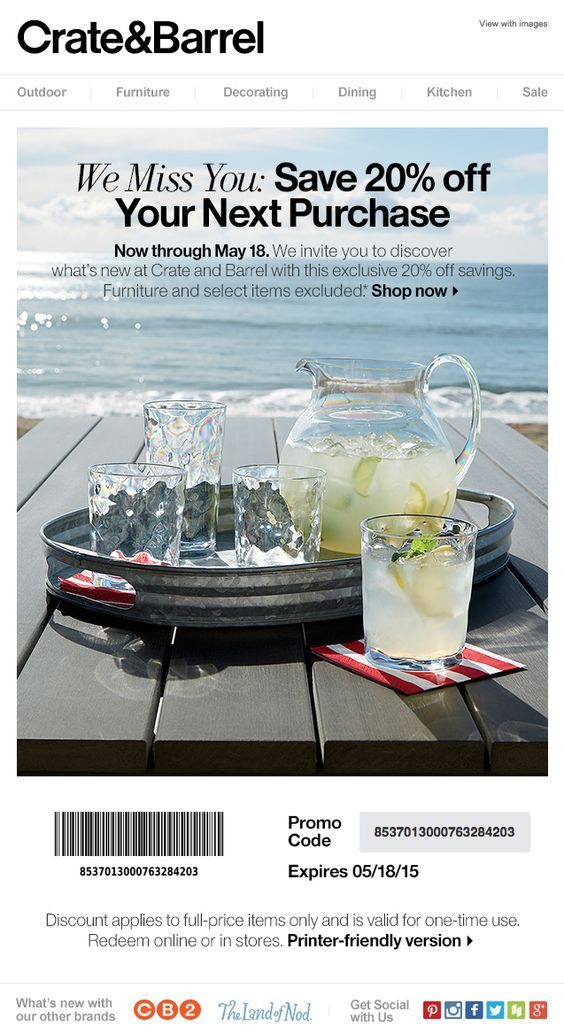 Crate&Barrel really miss you and they offer a 20% for your next purchase to keep you with them. The fact that the offer is available for a limited time, means that you have tohurry upwith your purchase.
Come up withspecific strategyand createspecific contentthat will turn your subscribers into active customers again.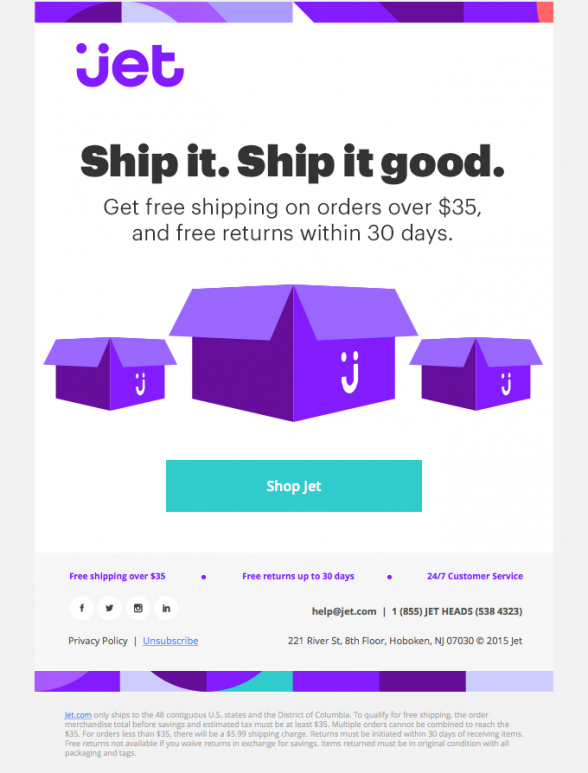 What better reason to purchase something if you are offered afree deliveryor afree return. In this case Jet offers them both. They let you know in this short, on brand email with a quick call to action Shop jet.
Think about thebiggest benefitpeople get from being your clients. Make this one benefit a central part of your email, explain it and highlight it with images and client testimonials.
When companies like Nest use email to stay in touch with their clients and re-activate the more sleepy ones, one can be sure that Email is here for the long haul. With this one Nest tips you that your thermostat is going to pay for itself in less than 2 years. Just go and grab one.
In your re-engagement email remind about aprior experienceyour clients had with your brand. Let your clients recall their relationship with your company and remind them why they liked your brand on first place.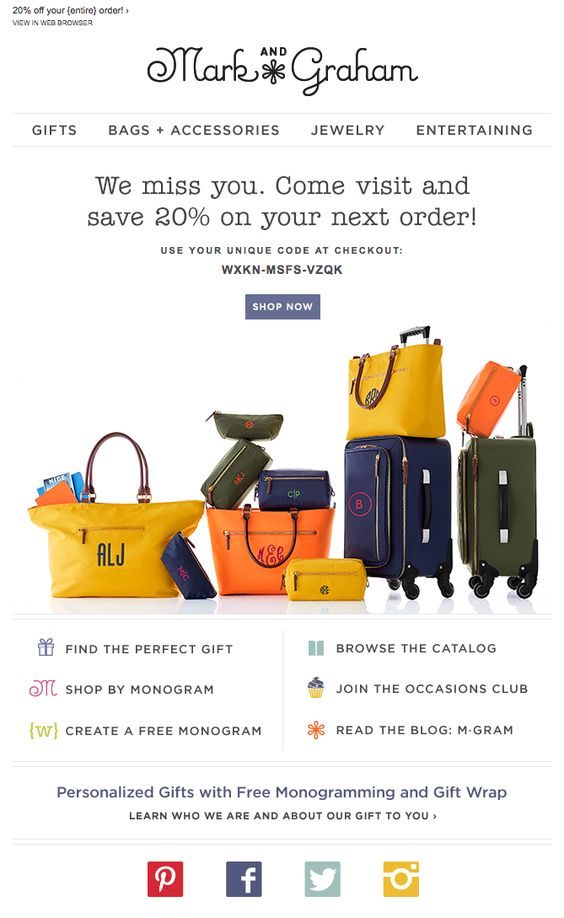 Here is one with clear design and an excellent reactivation message on top. You get 20% off your entire purchase. Just use the code provided at checkout.
Our inboxes are so busy that we could easily miss a single email. To guarantee the success of your reactivation campaign, better senda chain of emailsfeaturing different subject lines and copy.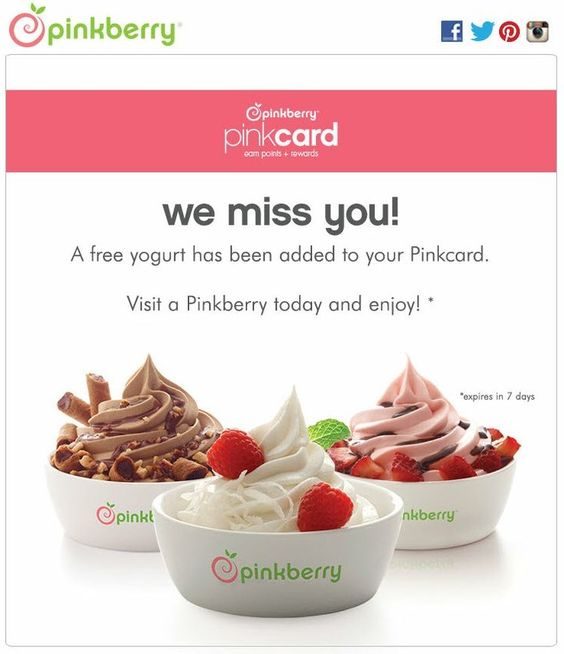 AnotherMiss you!email, this time paired with a sweet seduction. You just got a free yogurt added to your Pincard. Hurry up, you have 7 days to get it.
Dont remove people who dont respond immediately to your win-back campaign. Give them alittle time, they may not be in the buying cycle right now.


This is probably the best way to promote a subscription based service. Give your inactive clients afree accessto a premium account. Let them test drive your services and decide themselves if they wish to stay with you.
Make your win-back campaign part of anautomated chainof emails. This way your email marketing provider is going to look for inactive users and send an email automatically according to the rules youve set up.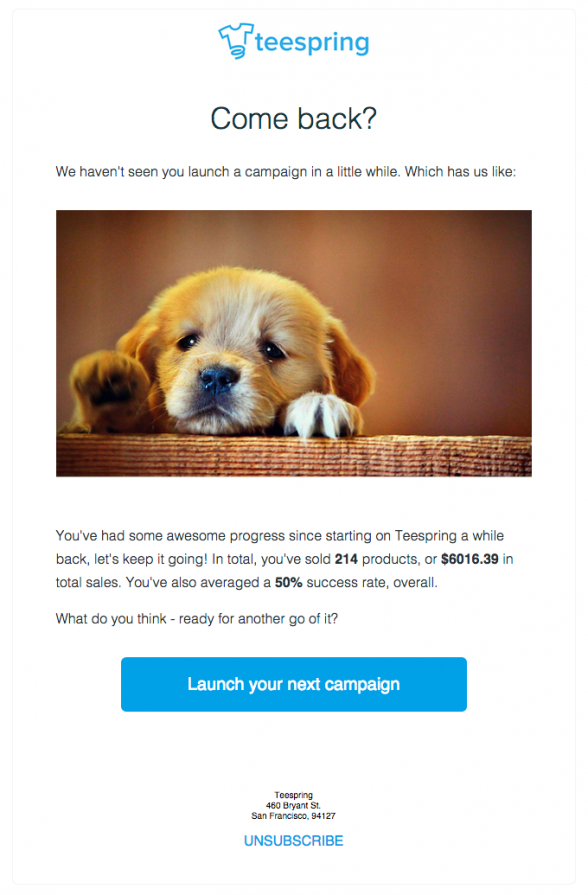 A cute puppy can fix any situation and the guys at Teespring know this well. Their win-back email features one, but they also remind you what a great progress you had on their platform. Ready for another go of it?
Segment your clients bybuying activity, so you could offer different incentives. May be offer free delivery to those who have been heavy buyers and discount prices only for those with fewer purchases.


Thrive Market promise not only free shipping for order over $49, but 25% off your first purchase. You get promo code to use at checkout and right underneath is the main call to action button Start Shopping.
Dont leave money on the table.Be proactive. Get your inactive clients through a re-engagement program, before you remove them from your email list. Good luck!
Having in mind thebig percentageof inactive users any company in any industry has in its books, reactivation and win-back campaigns should be part of every email marketers strategy. Dont procrastinate and be sure to include a chain of re-engagement emails in your automated email flow.
If youneed assistancewith your reactivation email design or coding, be sure that you check how MailBakery could help youEmail Template From Scratch.
Special thanks tofor providing the email examples for this post.
© Copyright 2018 MailBakery. All Rights Reserved.
This site uses cookies. By proceeding, you agree to ourPrivacy Policy, including the use of cookies and their tracking technologies.