Malaco is home to many recording artists and songwriters, a catalog of thousands of original recordings and song copyrights. Browse our online biographies for each of our artists below.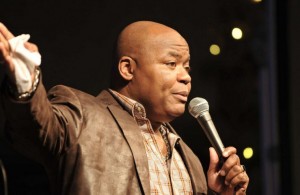 As a youngster, Darrell Luster fell in love with the music of the Soul Stirrers, the Sensational Nightingales and the Highway QCs having no knowledge that he would someday work with all three quartets, along with other legendary gospel artists.
A gospel singer, producer, musician, radio show host and record company executive, Darrell Luster was born in Durham, North Carolina, on December 10, 1963, the youngest of his familys 15 children. His father died just months before Darrell was born, so he and his next youngest brother were sent to Chicago to live with an uncle. After moving back to Durham, Luster discovered that some of his brothers had formed a gospel quartet. He wanted to be part of the Luster Brothers quartet and, by age 12, he got his wish.
In addition to singing, Luster also played guitar. He and his bass-playing brother Richard (Ricky) learned to play the hits of their favorite quartets so whenever those groups performed in Durham, the brothers would be ready to fill in as musicians if needed. The strategy worked; in 1981, both brothers not only played for, but also began touring with, the Highway QCs. They can be heard accompanying the QCs on the groups 1983 Savoy Records release,Somethings on My Mind (Thats Worrying Me).
Darrell got the chance to work with the Sensational Nightingales in 1982 when he filled in for longtime members Jo Jo Wallace and Bill Woodruff, who were ill. When the Gales lead singer Charles Johnson left to form the Revivers, he invited the two Luster brothers to join him. Darrell and Ricky joined the Revivers in 1984 and sang on all of the Revivers albums, including that years Malaco release,No Man Can Stand Alone,until they parted ways with the group in 1993.
At that point, Darrell tried his hand at being a solo artist. His first album,Peace Be Still, came out on Morning Star Records and included the singleI Believe He Died for Me. In 1997, he releasedMembers OnlyandIt Doesnt All End at the Graveon his own label, Beacon Records.
Luster reunited with the Sensational Nightingales in October 1999 when Malaco Records hired him to produce an album by the veteran quartet. Two albums later, Luster was a bona fide singing member of the group. A Luster-produced album for Malaco,Songs to Edify, earned the Gales a Grammy nomination for Best Traditional Soul Gospel Album.
Luster became Malacos in-house producer in 2006. He collaborated on the Yes! Quartet campaign, which produced a Stellar Awardnominated compilation featuring the Pilgrim Jubilees, Slim and the Supreme Angels, the Sensational Nightingales and Spencer Taylor and the Highway QCs.
Luster also produced MalacosA Soul Stirring Reunionin 2009. This album, also nominated for a Stellar Award, reunited past and present members of the Soul Stirrers, including Leroy and Arthur Crume, Willie Rogers, Eddie Huffman and the Reverend Luther Gamble. In addition to the Nightingales and Soul Stirrers, Luster has produced, written for and sung on Malaco albums by the Brooklyn All Stars and Margaret Babe Allison and the Angelic Gospel Singers. His duet with the Reverend F.C. Barnes on the traditional-soundingGod Is God (He Wont Change)became a radio hit for Atlanta International Records in 2010.
Today, Darrell Luster is head of A&R and promotions for the gospel division of Malaco, which includes the gospel catalog of Savoy Records, and is director of Malacos 4 Winds label. He also hosts his own radio show. In 2017, Luster was honored by the Charlotte, North Carolinabased Gospel Image Awards with a Lifetime Achievement Award.
The e-mail address you provide will be used only to send you the newsletter; we wont share it with anyone. Your privacy is important to us!
June 20 2018 (Dallas,TX) Rising star, Christina Bell (formerly of group, Ziel) has signedRead More
Although steeped in the gospel quartet tradition, Frank Williams of the Jackson Southernaires had suchRead More
The hit song Misty Blue by Dorothy Moore was featured on Foxs hit seriesRead More