Marketing Communications Strategy: What It Is How To Do It Right
What is a Marketing Communications Strategy?
Steps in Creating an Integrated Marketing Communications Strategy
How to Develop a Marketing Communications Strategy for Your Startup
How to Get Press by Building Relationships
How to Start Conversations with Journalists
What is marketing communications strategy?
Marketing communications strategy is the strategy used by a company or individual to reach their target market through various types of communication. It includes yourmessage(what is to be said), themedium(where it is to be said), and thetarget(to whom your message is reaching).
You might be wondering: whats a marketing communications strategy that always works, even without a budget?
Easy: build relationships with journalists to get press coverage, guest posts, and backlinks.
Marketing communications or Public Relations is the Promotion bit of the 4Ps of marketing (product, place, price, promotion).
Since marketing communications strategy is a mouthful, most people just shorten it to Public Relations or PR strategy.
Usually, PR strategy means building top of mind awareness amongst your ideal customers about the product or offer.
How you go about this will depend a lot on your experience, industry, and budget. If your marketing plan has a budget of a million dollars to spare, you can reach out to your target market with TV or Facebook ads.
However, if youre like most entrepreneurs, you want to promote your business without breaking the bank.
And there is no better way to do that than by managing your own PR campaign.
Wait, do you mean free as in free lunch?
Exactly! If you apply the methods in this post to your own marketing communications strategy, youll learn how to build lasting relationships with journalists and influencers, get free press, and acquire more customers through a sustainable organic approach.
As I mentioned earlier, marketing communications strategy defines the entire range of activities you will do to market your products. This includes everything from paid marketing to PR.
Any integrated marketing communications strategy (IMC) should have three guiding principles:
Whatever marketing channel you choose should have the same brand perception as yours. For example, if you sell luxury watches, build relationships with journalists from TIME magazine, not those writing in your local newspaper (unless you live in the Hamptons!).
Follow the oldest rule in marketing be where your customers already are. Pick channels where your customers are already active. If youre targeting younger millennials, advertise on social media platforms like Instagram, not Facebook, and certainly not day-time TV!
Choose a marketing channel that fits your budget (obviously). If you dont have a budget, getting a print ad in WSJ will be out of your reach. But perhaps you can get a free press mention on WSJs website by reaching out to the journalists (as Ill show you below).
Any large companys marketing plan will have several campaigns on multiple channels simultaneously. The combination of all these channels PPC, social media, advertising on TV, print, radio, etc. is called the marketing mix of your marketing communications strategy.
Smaller businesses, however, usually stick to one or two marketing channels to reach their target customers. Else you risk diluting your budget and focus.
Keeping the above principles in mind, you should create an annual or bi-annual Integrated Marketing Communications Strategy (IMC). Here are the key steps to follow.
Before you can create a strategic communications plan, you need to understand your target audience.
Any marketing communications plan has to be formulated for a specific group of target customers. Your IMC has to define this personas needs and characteristics.
The simplest way to do this is to study your existing customers through surveys, interviews and so on. Ask:
What needs do most of your customers have in common?
Why are they buying your products or services?
These consumer insights are crucial for creating highly targeted marketing messages that your persona can truly relate to.
Your integrated marketing communications plan should always follow an outside-in approach, i.e. be centred around extensive customer analysis. You should invest time to stay in touch with shifting customer needs even if you are doing business-to-business marketing and you think you already know your customers very well. Avoid using an inside-out approach which does not invest sufficient resources in researching and analyzing customers.
Your USP is the foundation of your integrated marketing communications plan. The USP should be reflected in every message your brand sends out across all communication channels, whether its for PR, sales or content marketing.
A clear USP will ensure that your brands messaging is clear, consistent and recognizable. It will also help you in crafting compelling media pitches.
Doing a SWOT analysis from the viewpoint of your target audience will help you frame your USP. Ask:
Why will a consumer choose you over a competitor company?
Where do you fall short of your competition?
Survey your existing customers about their purchase intention. Understand the rationale behind the decision-making process of your typical consumer.
Marketing communications mix is the combination of channels you use to reach out to potential customers.
However, as I mentioned before, the most budget-friendly channel that drives the maximum results is Public Relations.
Branding is a vital part of your IMC. It broadly includes two things.
At the most basic level branding is about having a consistent look and feel across all your online and offline marketing materials such as your:
However, at a deeper level, branding is about the core identity of your company. Its about what you stand for, and what you want people to recognize you as. For example, Apples branding is all about cutting edge but extremely user-friendly technology. This identity should be a part of every marketing communication your organisation sends out.
Once you have decided on your promotional mix, you also need to plan the right set of success metrics for all communication channels.
For instance, your success in Public Relations can be measured by
the number of mentions on different outlets and blogs,
number of website visits or signups from each article,
website visits from social media shares, etc..
These metrics will determine whether you are fulfilling the key objectives of your communications plans. So make sure you pick metrics that actually drive value to your business, irrespective of what communication platforms you are measuring.
For example, just because you are measuring social media, dont use vanity metrics such as likes or retweets. Instead, go for website visits, leads acquired, etc.
Once your plan is ready, you execute, measure your success and modify your approach as necessary.
If youre a small company or startup, your marketing communications strategy will be vastly different from a large business. The P&Gs and IBMs of the world can be on multiple channels at once online and offline advertising, public relations, social media etc.
For you, however, beingeffectiveandcosteffectivematter the most.
And one of the most effective marketing approaches is to get free press for your business.
This is the process of approaching influencers, journalists, and bloggers with stories about your company, your brand, and your products.
Depending on the target and your own goals, you can often turn this outreach into guest spots on high-value publications, press mentions, and interviews all things crucial for a successful marketing communications strategy.
A story in a top media outlet is an excellent way to get in front of a vast number of potential customers. It can work wonders for your brand awareness, generate website visitors, signups and backlinks all objectives you would have expected from advertising or any other paid marketing channel.
A marketing communication plan for getting press has three steps:
Creating a story that works on your target channel (press) and aligns with your brand image. The story should address the interests of your ideal customers.
Finding press targets that have interest in your product and the same audience as your target market
Building relationships with press targets and pitching them your ideas
Ill cover these steps in detail below.

Just as product-market fit is important for a business, message-journalist fit is crucial for successful marketing. The angle or spin you use on a message will decide its audience. Finding the right journalists or influencers, therefore, should be a key part of your marketing communications strategy.
I madeJustReachOutprecisely for this purpose. Get in touch with me to see how we can help you achieve message-journalist fit.
Your marketing message describeswhatyou have to say andhowyou say it. That is, it includes both the content of your story and its spin or angle.
Both of these elements are crucial for virtually any communications plan or marketing activity. A small change in your marketing message completely changes how and where you market it.
For example, if you sell plain white tees, you might have three different angles to promote them:
ours have timeless cuts and go with everything
ours are cheap and available in bulk
ours are made from the finest Egyptian cotton
The core content of all these three messages is the same everyone needs plain white tees. However, the spin on them is radically different.
This impacts where and to whom you promote the message. If you emphasize the low cost of your products, youll target press outlets that cater to cost-conscious customers.
Instead, if you emphasize quality, youll target outlets that cater to luxury buyers.
Creating a compelling marketing message requires a deep understanding of your own product, target customers, and brand values.
Youll have to introspect. Ask yourself:what is my product about? Who would buy it? What kind of brand do I want to create?
One great way to condense this marketing message into a press-ready pitch is to use the mad libs approach outlined by theFounders Institute.
This involves defining the company, its product, target audience, the problem it solves, and how it solves it all condensed into a single sentence (similar to a sales elevator pitch).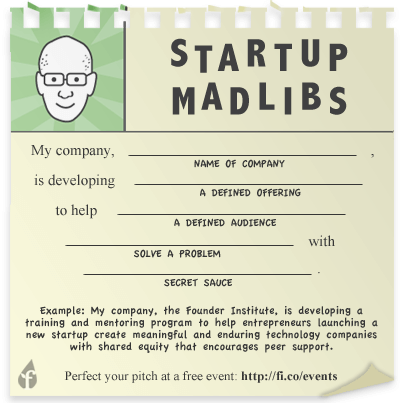 Never use jargon or buzzwords in your one-sentence pitch. If your target audience journalists, bloggers, influencers have never heard the term (or heard it a billion times), you dont want it in the pitch.
Heres one example of aterrible, jargon-riddled pitchthat should have never seen the light of day: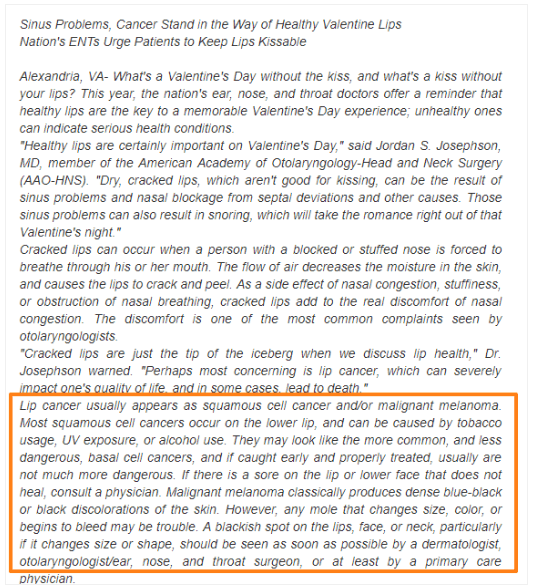 In contrast, heres one pitch that is short and to the point: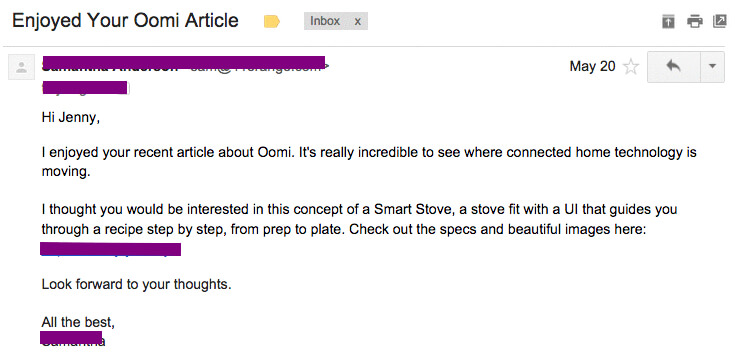 Doing this will ensure that your brand has have a short, snappy marketing message with clear content and a well-defined angle.
This will make the entire process to get press much easier.
The next step, as youll learn below, is to find the right targets for this marketing message.
Getting press today is very different from what it used to be two decades ago.
For one, there were no influencers and bloggers in the 1990s. You pitched journalists in the mainstream media and hoped they would mention you in their newspapers, radio stations and TV shows.
Today, however,anyonewith an audience can be a press target. A small blogger with a few thousand engaged followers is as legitimate a target as a big publication with a large but disengaged audience.
Your search for press targets should take this into account.
Here are a few foolproof ways to find prospects when creating your marketing communications strategy:
If someone has linked to similar content in the past, there is a good chance theyll write about it again.
Start your search by finding a piece of content similar to yours. A Google search is a good place to go. Look for keywords that describe your product, business or content.
For example, if you work in AI, searching for AI startup shows a number of media outlets that might write about you: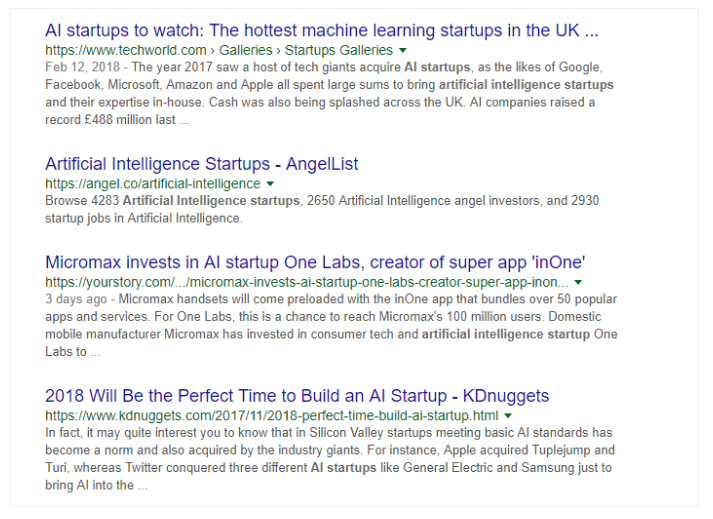 All of these would be good targets for outreach.
You can find even more targets by finding sites that have linked to the stories above.
Plug a story into a backlink research tool such as Ahrefs orMoz OSE. This will show you everyone that has linked to it: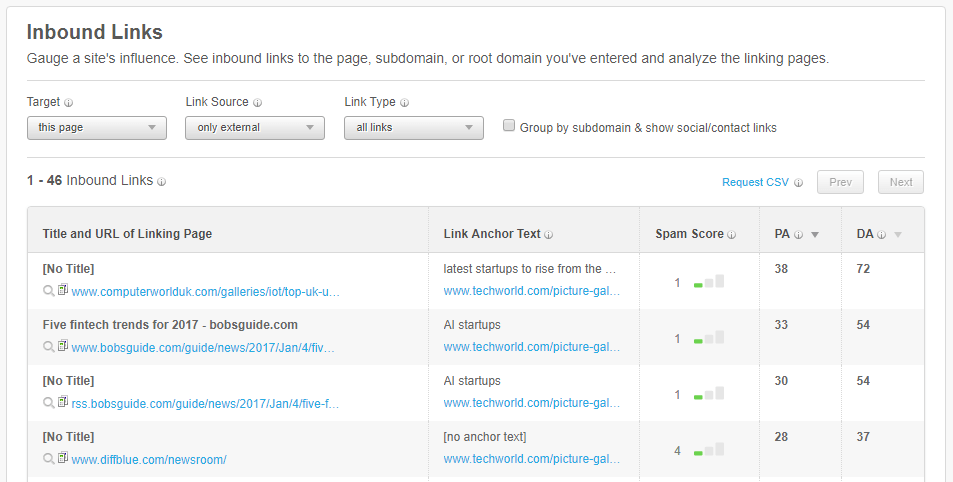 Add these to your list of prospects.
If youre promoting visual assets such as infographics, one of the best ways to find prospects is to look for media outlets and blogs that have linked to similar infographics in the past.
Start by going to Pinterest and looking for your target keywords + infographic.
If youre sharing a content marketing infographic, for instance, you might use this: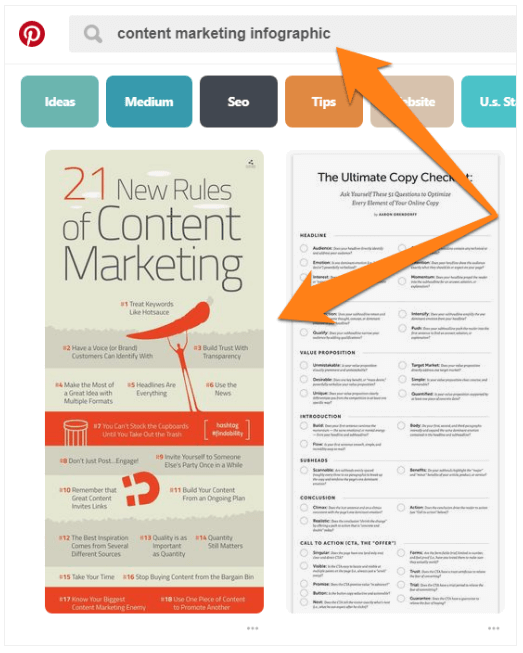 Once you find an infographic, right click on it and select Search Google for this image. This will open Googles reverse search engine and show you everyone that has linked to the image.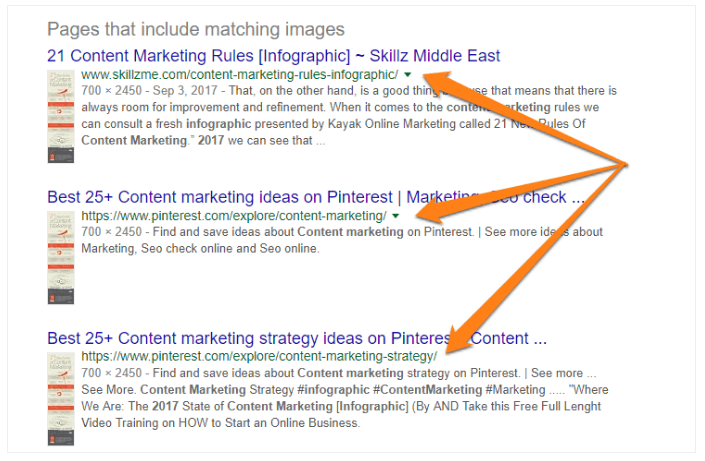 All of these are great targets for getting backlinks and press.
Crunchbase is a massive database of startups. It is also one of the most overlooked tools for finding media targets.
Go to and search for a top competitor
Scroll down to the Recent news & activity section
Make a list of all media outlets that have written about the competitor recently
For instance, here are some publications that have written about HubSpot: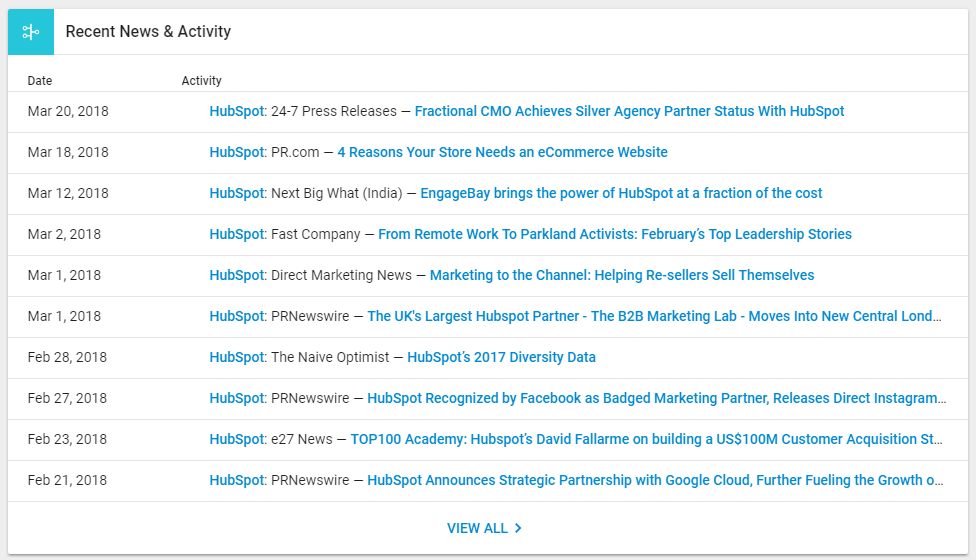 For large companies, this database is updated very regularly so you can get a lot of prospects. You can also use it to see the different approaches you can take for reaching out to different media outlets.
Shameless plug, butJustReachOutis the tool I made to solve this exact problem. It does all the media opportunities searching work for you so you can focus on the outreach and relationship building.
To use it, just search for your primary keyword. Youll see a list of journalists whove written about the topic recently.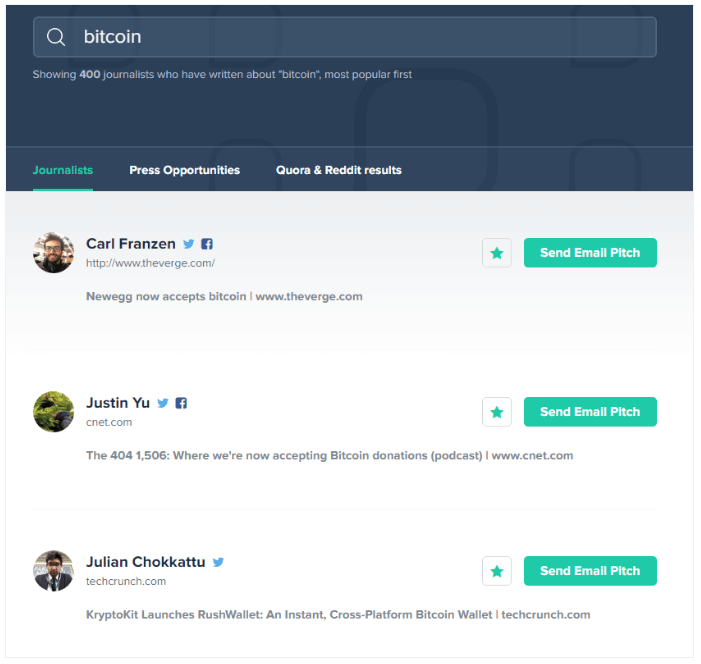 Hit the Send Email Pitch button and youll see their email details as well.
JustReachOut works better than the other approaches since it focuses on journalists and influencers, not publications. It also dramatically cuts down your effort by showing you email addresses and helping you craft a pitch.

If youve ever done any sort of outreach, youll know that finding press targets and looking up their email addresses takes a ton of time. If you want to personalize your message crucial for improving response rates youll also have to keep track of what they wrote about recently.
I madeJust Reach Outkeeping these exact requirements in mind. You get all the essential data you need to pitch journalists, along with ready-made pitches. Nothing more, nothing less.
There are a number of other less effective tactics for finding press targets. I covered some of them earlier in my post onhow to pitch journalists.
Once you have your list of prospects, find their email addresses. Heres a detailed post onhow to find anyones email.
Next comes the most important part of getting press: building relationships and pitching your story.
The public relations field is a built on relationships.
You might have seen the stereotype in movies a busy PR person glued to the phone, thumbing through a Rolodex thicker than two packs of cards.
The reality isnt far from the truth (though emails have replaced phones and CRMs have replaced Rolodexes). Getting the word out to journalists and influencers is still all about relationships in any marketing communications strategy.
As an entrepreneur, you are an unknown quantity to any journalist, influencer, or investor. You might have the best cold email pitches in the world, but since they dont know you, theyre unlikely to respond.
Youll also find that the top journalists almost never respond to unsolicited cold emails. You might get a response from , but if you want to land on TechCrunch, youll have to be familiar to the journalist.
Its not that journalists and influencers arent nice people. Theyre just too bombarded with emails. AsFractls study pointed out, most journalists get more than 100 pitches per day.
70% of journalists also prefer collaborating on a story rather than be pitched something fully baked.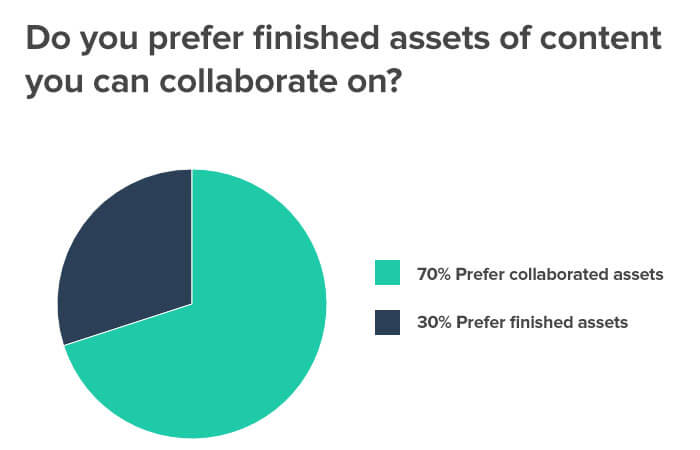 Essentially, this means that you cant simply send out cold pitches to top journalists. Its far less effective than sending cold sales emails.
To do both of these, you have to do one thing.
You guessed it: build relationships.
The secret to building a relationship with an influencer is the same as building any other relationship:
This single rule should be the guiding force in your marketing communications strategy. All your interactions with journalists, bloggers, influencers, investors, prospective customers, etc. should follow it.
In psychology, the principle of reciprocity that you do unto others as they do to you is even considered one of thepillars of persuasion. The more you give people something they want, the more theyre likely to do what you ask of them (in our case, publish your story).
Before I share strategies to offer value, there are two principles you should adopt in your PR efforts:
Would you use the same approach to reach out to Tim Ferriss as you would for a no-name blogger?
Your first step in your marketing communications strategy should be to segment your list into three categories:
These are your whales high-value targets that have massive influence and reach. Think of influencers like Gary Vaynerchuk and journalists like TechCrunchs Matt Burns.
These are prospects that would be known names to people within the industry, but dont have the name recognition of the whales above. Usually, they run websites with moderate authority but have a growing audience. More importantly, theyre often followed by high-priority targets.
These are targets with new-ish websites and limited audiences. They dont have a lot of impact on getting you viral but can act as a source of links and social proof.
Segmentation will help you align your efforts with the quality of the target. Maximize the time and effort on high-priority targets. Use scalable tactics for reaching out to low-priority targets.
Sending personalized emails is the number one thing you can do to build relationships.
The problem is that personalization isnt scalable.
One solution is to personalize according to the targets priority.
For your high-priority targets, always use a personalized conversation starter. This should be a unique, handwritten email that initiates a conversation by giving something of valuewithoutany ask.
The goal of this conversation starter is to establish yourself on the prospects radar. The ask will come later.
For mid-priority targets, throwing in a single personalized line at the start of the pitch is often enough. This helps you stand out from the army of PR agents sending out emails from templates.
The rest of the email can be from a template and should include an ask.
For low-priority targets, personalize the name and, if possible, their website name. The rest of the email can just be a template.
Its also a good practice to work your way up from low/mid-priority targets to high-priority ones. You can use your coverage in lower priority targets to build social proof and reel in bigger publications. This snowball effect is a big part of any successful marketing communications strategy.
You might now be wondering:how do I start conversations and offer value to journalists?
As I said earlier, the best way to build relationships is to give your targets something they value.
While this will obviously vary from target to target, there are a few things most influencers, bloggers, and journalists want:
Ill share some ways to use these approaches to build relationships below:
Journalists live and breathe content. Any writer who cares about his work likely scours the internet for interesting stories and useful content.
If you can point the journalist to content that is relevant to their needs, theyll appreciate it.
To do this, you need to do some quick research on the journalists interests and recent stories.
Most journalists will clearly identify their area of interest on their public profiles. For example, Darrell Etherington of TechCrunch notes his reporting areas in his Twitter bio: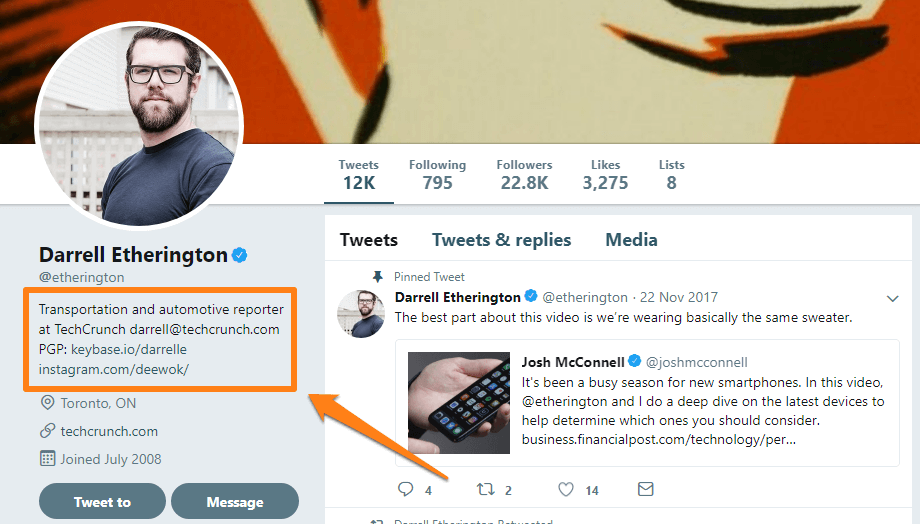 This means that Darrell will likely be interested in stories related to transportation.
You can also go through their most recent stories to see what kind of topics theyve been interested in lately.
In Darrells case, hes written a lot about automotive tech companies like Tesla and Uber: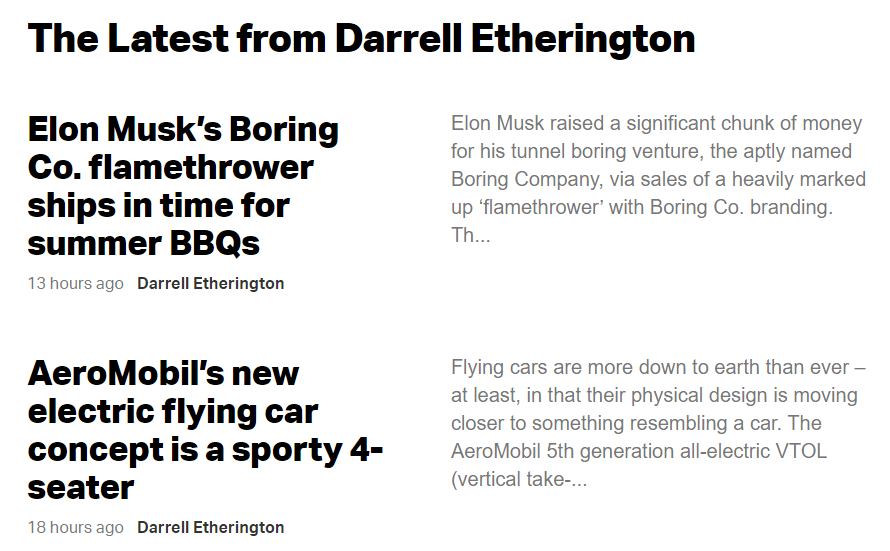 If you send Darrell a story about Musks flamethrowers or a flying car, theres a chance hell find it useful, getting you one step closer to establishing a relationship.
I used this approach to connect with Darrell earlier. I sent him a link to a story on a topic hed shown interest in (Philips Hue). He responded by writing about the story later on TechCrunch: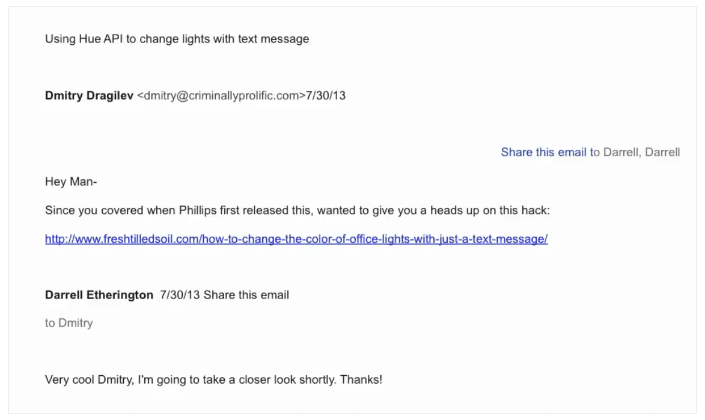 Its important that you do this without any expectations. Dont have an ask; just share good content. Giving should be the cornerstone of your marketing communications strategy.
Dont try to sneak in a link to content you created either. There will be a time for self-promotion later; for now, just be generous by sharing quality content.

If youre going to share content with journalists, pick up something that is both substantial and not easy to find. Dont just send them the latest article you saw on NYTimes; chances are, theyve seen it already.
Keep a list of top websites that regularly feature content from your journalists industry. If youre targeting business bloggers, for instance, you might share something from .
For best results, tie the content to what the journalist wrote about recently. A list of their most recently published pieces as shown onJust Reach Out can help.
A surefire way to hook in an influencer is to give them free exposure.
However, most marketers mess this up by writing about the influencer on their own blog and sending them a link to it.
While theyll likely be chuffed to see their name on your site, this approach has an element of selfishness to it. There is an expectation that theyll have to promote your website in exchange for the mention.
The trick is to be generous by giving them exposure on sites that a) you dont control, and b) have a large audience.
And one of the best sites to do this is Quora.
Search for your target keyword on Quora. Look for a question that is fairly open-ended, yet specific enough to invite expert opinion.
For example, if youre writing about content marketing, this would be a good question (you know its a good one because Neil Patel has answered it):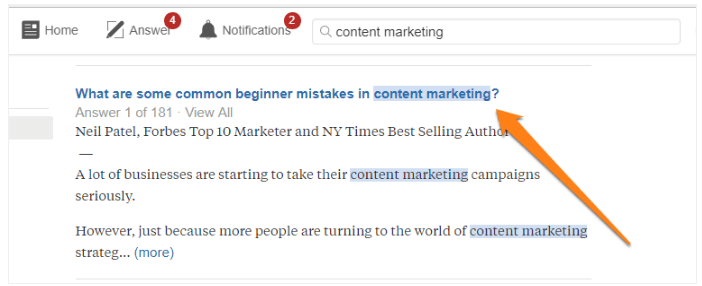 Next, write a detailed answer to the question. Most importantly, include a quote or reference to the influencer youre trying to target.
For instance, I wanted to reach out to a Venture Beat writer so I included a quote from her in my answer: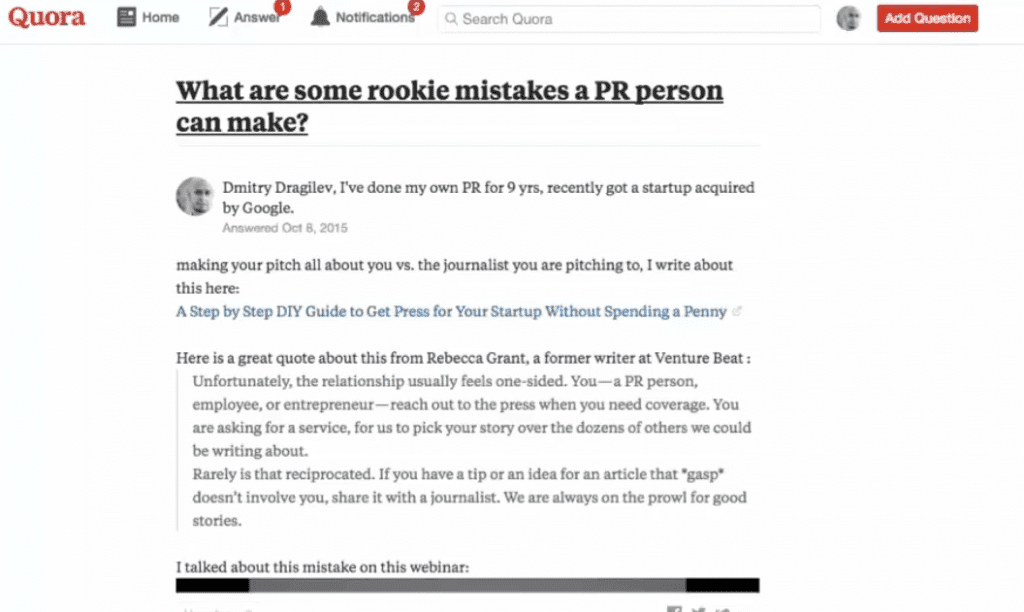 Now reach out to the influencer and tell them about your Quora answer (or a tweet, as in the example below):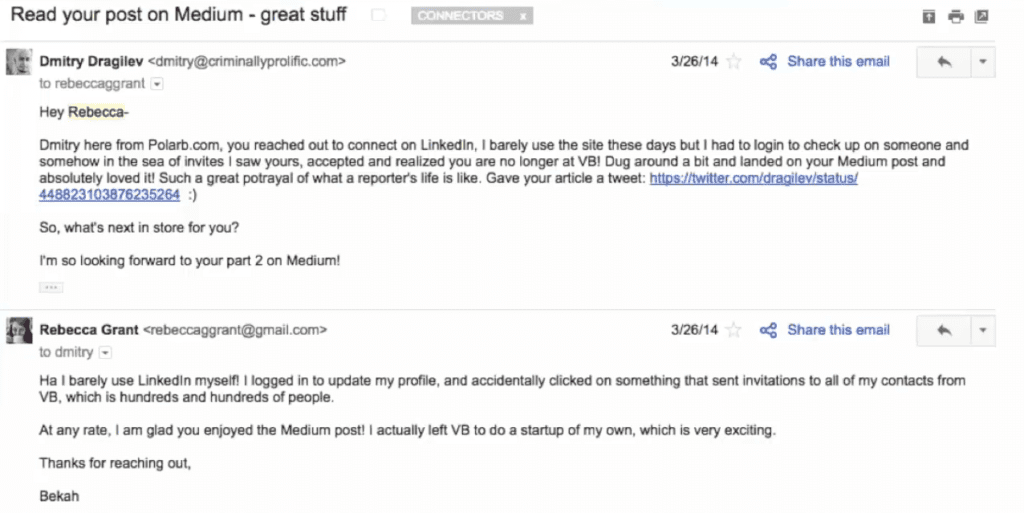 This approach works better than simply dropping the influencers name in your own blog post. It shows that you care enough about their work to not only read it, but to also promote it on a platform you dont even own.
The result is a solid foundation for building a relationship as part of your marketing communications strategy.
Journalistslovedata, especially if it can be used to support something theyve written about earlier.
If your organisation has some unique data or insights, sharing it with a journalist or influencer is a great way to get an in.
The trick to make this work is to tie the data to something they covered recently. If they wrote about poor conversion rates of outreach campaigns, and you have your own data showing otherwise, share it with them.
For example, OKCupid referenced a journalists recent posts on loneliness to share data about dating preferences: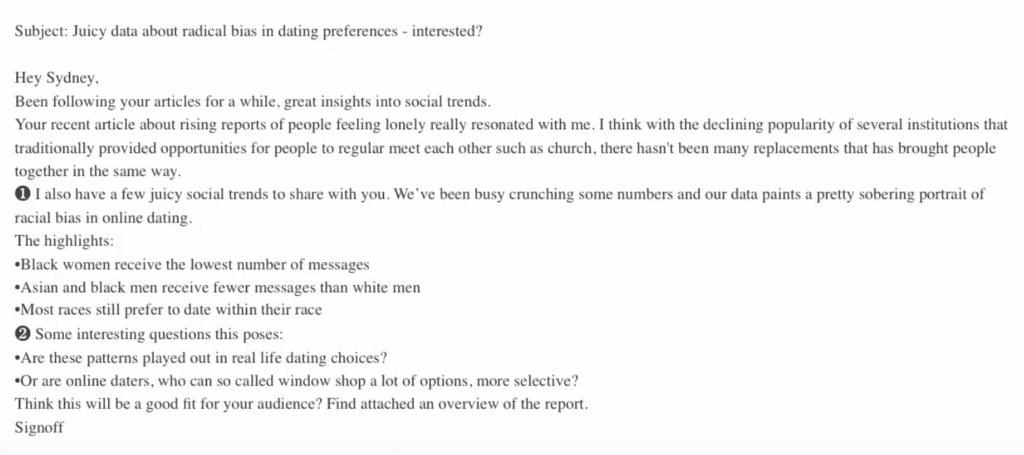 But what if you dont have data of your own?
In that case, you can create unique content specifically for the influencer.
I used this tactic extensively to promote Polar. We created unique polls bloggers could plug into their recent posts to spur engagement.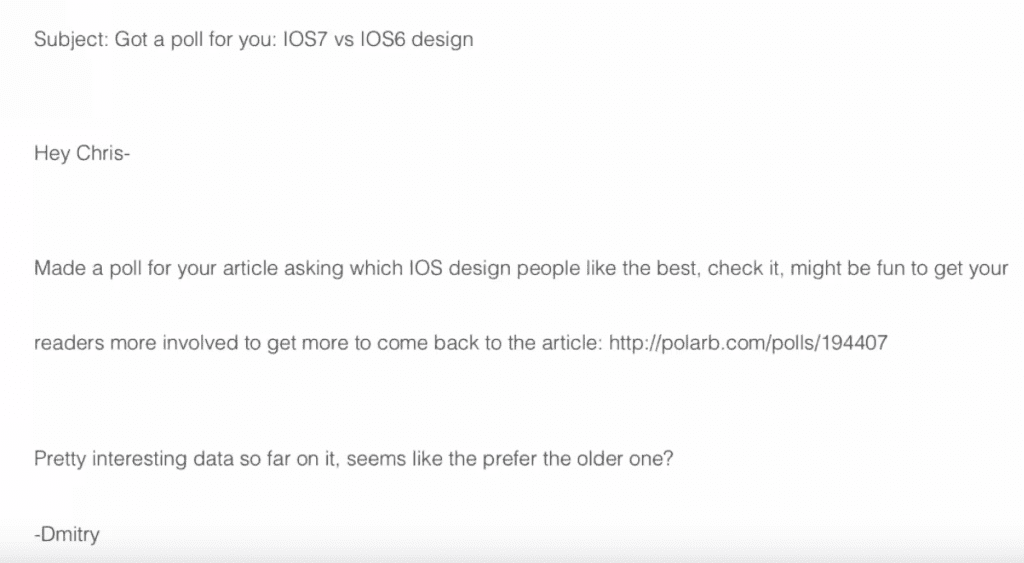 Notice how I closed the email with a question?
Thats a great way to get a response.
What if instead of pitching journalists, you could get them to pitch you instead?
Sounds impossible, but thats precisely whatHARO (Help A Reporter Out)does.
HARO connects journalists with sources. Every day, it sends out an email with a list of requirements from different journalists. Sources who fit their requirements can jump in and leave a response.
For example, heres a recent requirement for blockchain experts posted on HARO: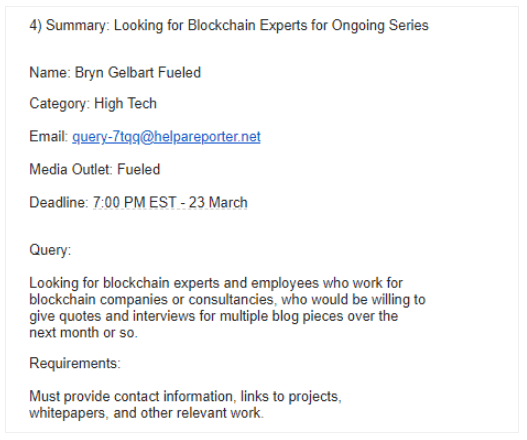 If you had a blockchain product, this would be some of the easiest press you could ever get.
The problem with HARO is that it queries can be hard to find. It is not searchable; you have to keep an eye out for the newsletters they send twice a day.
To solve this problem, I added a HARO search engine to JustReachOut. Instead of digging through newsletters, just enter your target keyword and find relevant opportunities.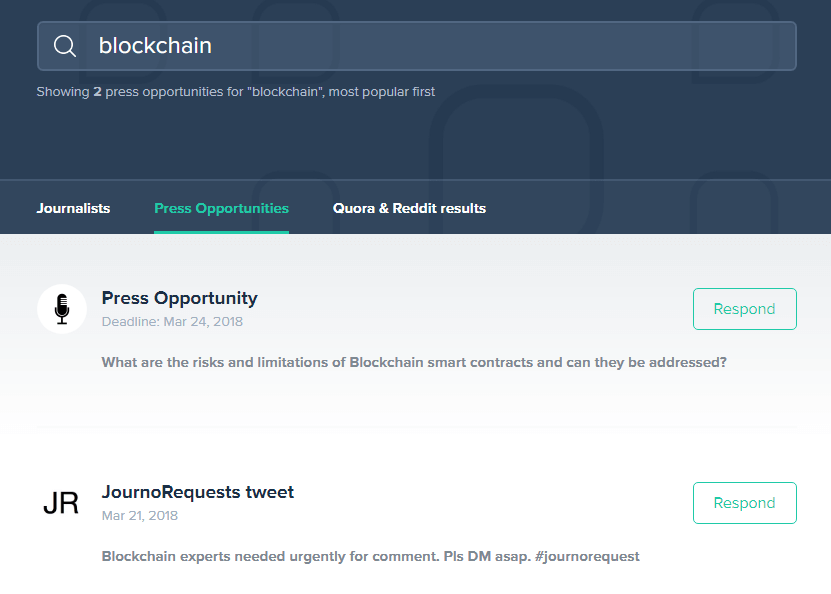 This makes the entire marketing communications process drastically easy and gets your organisation into some high-profile media publications.

Be where your customers already are is Business 101, and it applies equally to PR. Be where journalists are already asking questions. In our case, its HARO.
Digging through HAROs lengthy twice-a-day emails, however, can get tiring very quickly. So we incorporated a HARO search engine inJust Reach Outto make the process much more streamlined.
If youve put in the hard work and built relationships with journalists as part of your marketing communications strategy, youre already far ahead of the competition.
Youll find that its significantly easier to get people to respond to you if youve communicated with them before.
For one, instead of sending a fresh email, you can simply reply to your older conversation thread. When they see that youve spoken to them earlier, its guaranteed that theyll at least look.
Two, there is the principle of reciprocity at play. If youve bee